Christmas Learning Activities for Preschool Kids

Christmas is one of the most fun and engaging festivals for preschool kids as it is visually pleasing and full of gaiety. To add sparkles and winter vibes to a kid's childhood, parents and teachers must include Christmas activities as a part of learning. Activities are a great source of entertainment and learning altogether. It helps the kids better understand concepts including curriculum learning, social behaviour, critical thinking, and cultural aspects of our society.
Here are a few Christmas Learning Activities that will benefit the children to learn better in an enjoyable and interactive way:
1. Yarn & Sticks Christmas Tree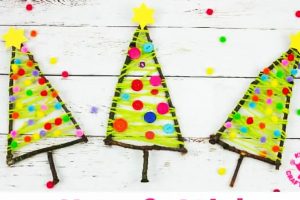 Things that you require-
Twig Sticks
Green Yarn
Buttons/ small pom-poms
Coloured Sheet
Scissors
Fabric Glue
How to make the Stick & Yarn Christmas Tree
The children need to join the twigs to form the shape of a Christmas tree i.e a long triangle and a small stick beneath it as a trunk. Stick them with the help of glue and let them dry.
After that take the yarn and start coiling it from one end to another. Stick the other of the yarn nicely.
Now is the time for decoration. Decorate your tree with the help of colourful buttons or small pom-poms with the use of fabric glue.
Make a star with the help of Scissors from the coloured sheet and paste it on the top of the tree. And voila! Your Christmas tree is ready.
2. Sparkly Snowflakes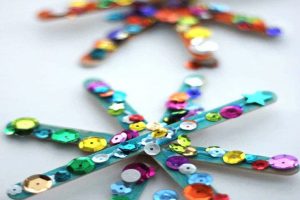 Things that you require-
Paints
Paintbrush
Ice-cream sticks
sparkles/sequins/coloured buttons/jewels for decoration
fevicol
How to make it?
Take four ice cream sticks and paint them blue colour. Let it dry.
Now, paste one ice cream stick to another in a plus shape and join all the sticks like a flower as shown in the picture above.
Now take your favourite decoration item and decorate the snowflake your way. Your Christmas sparkly snowflake is ready!
3. Perfect Christmas Math Activity
This is one of the best Christmas learning activities that can help your child through learning numbers with their orders. Parents and teachers can now easily help their preschool kids with Number recognition and ordering numbers by matching symbols to symbols in a Christmas tree chart.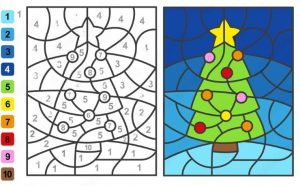 What do you need?
Dot sticker sheet
Green chart paper
Marker
Paper star for decoration
How to make learning easy
To start with the process, parents or teachers must first prepare the Christmas chart. With the help of a marker, make a Christmas tree on green chart paper.
Place the numbers diagonally as shown in the picture.
Now mark the numbers on the stickers as well and let the activity get started.
This is straight matching. Matching a "shape" (each number symbol is a shape of sorts). All the child really needs to know is how to match a symbol to a symbol.
Knowing the number name is a bonus and understanding the numbers are being put back in order is another.