TECHNOLOGY AND CHILD BEHAVIOR: THE POSITIVES
When we talk of technology and its subsequent relationship with child behavior, looking at the positives is of utmost importance. We, as parents and teachers tell the child to be bereft of the technological aids fearing their over dependency on such gadgets. The era here keep us informed that the advancement is not just for the nation to grow but to get ready with the workforce that shoulders the nation like never before. We fear brain drain if the child is technologically doing wonders and feel that in future they are going to serve the other nation.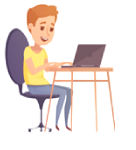 What's the harm? What's not so good in befriending technology when it only brings you bagful of positives.
Let us together look at some of the positives that 'rendering a child technologically sound in education' brings:
The technological advancement in education facilitates positive learning outcomes in terms of child behavior. It makes the child future ready with the know-how that the schools like Bachpan Play School and parents provide.
A child who is tech savvy understands things well and advances educationally. Not only the curriculum related development, but the ECA's are also well taken care of segment by the e- learning tools.
Technological advancement
When a child knows technology related things well, he/she is bound to give it back to the technology. Imagine one who can augment and understand the tech world can develop it to the best at a later stage.
Maintain nation's good worth
If the children of the nation are hands on with the e-power and consequent learning, they are sure to make the nation proud one day and increase their country's good worth in terms of human resource.
When a child is working on e-learning tools from the initial years of learning, he is instilled in with the feeling of belief in themselves and self-fulfillment. Schools like Bachpan make it a point to foster learning through tech tools like smart Class and tablets.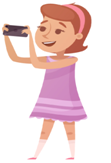 Children develop in high-spirit whenever they get an access and control over tech tools. Allow them to be free in using learning stuff. Bachpan gives each child a speak-o-pen which develops the inherent qualities of learning by doing.
Each child has to be taught a minimum basic level of behavior quorum that has to be maintained. The free hours apart from the study time and activity time indulges them into gadgets which can be channelized as the source of providing as well as fostering education.
Fosters scientific evaluation
When children have access to the internet and the hardware that works with the internet, they tend to refer to it for evaluating and handling the situation scientifically. For e.g. If you tell the child that crayons they need are unavailable in the market, they can easily order the same online without any second piece of thought.
Remember! The tech world shall never overpower the child if you assist them and keep in mind the following four guiding principle (Source: https://tech.ed.gov) for use of technology with Early Learners:
Technology, when used appropriately, can be a tool for learning.
Technology should be used to increase access to learning opportunities for all children.
Technology may be used to strengthen relationships among parents, families, early educators and young learners.
Technology is more effective for learning when adults and peers interact or co-view with young children.