How to teach kids not to interrupt conversations?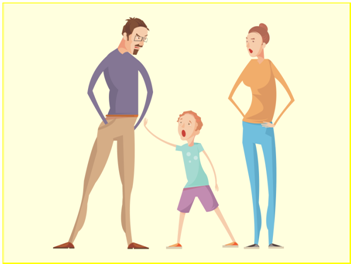 Hola Mom! Hey dad! Please Listen! Hey! Hey!
Your kid sounds so sweet to you. Kindly listen to them, they are calling you. But, are they really doing an apt action? No actually! It's good when child and you are alone but when a child interrupts while you are in a conversation just to seek attention for unimportant things, this is where they need to be stopped.
Parents and teachers necessarily have to tell the kids that interruptions are not good. Not only this, we need to tell them why interrupting is not a good practice. Not only for children, adults too should refrain from disrupting a communication in progress. We set an example for our kids and should practice what we say and teach them.
Interruptive behavior of the child might cause:
Rise in attention seeking behavior
Negative behavioral modifications
Exhibiting behavioral extremes
Emotional trolling
Social Violation
Rise in attention seeking behavior would involve a child too used to of the parent paying immediate attention to their needs. The child will not understand the concept of waiting.
The behavior changes in a kid will give rise to Negative behavioral modifications and the child shall fail to align positivity in behavioral outcomes.
Interruptive behavior may lead to child exhibiting behavioral extremes and child shall swing between extreme happiness and extreme sadness. You not listening to him while he calls will put him under extreme pressure.
A child could be hit by emotional trolling as when he interrupts a communication and does not receive the expected response, he will feel emotionally trapped and trolled.
In a social setup, where parents have a social circle, it sometimes becomes too awkward a situation when a child is cranky just because he does not receive proper attention even after repeated interventions. This leads to a social violation on part of the child as well as the parents.
What goes wrong?
Children are tender and their behavior should be regulated keeping in mind a lot of complex things which are a part of parenting. Casually, telling your child to keep quiet might stop him from interrupting but imagine of the after effects it shall have on the young minds. Another common mistake that adults make is comparing the child with another child. A short story on this goes like……
Amayra is close to her mom and is insecure whenever her mom talks to her neighbors. Amayra wants all her mom's time and attention. While mommy is talking, she interrupts in between. Mommy compares her to a quiet and timid child Aryan who does not speak at all. Amayra programmed her grain that Aryan is displaying behavior that is much appreciated. Amayra now does not speak and express at all. She has stopped interrupting her parents too but has it served a purpose. How will mom get back the chirpy Amayra who has seeded in her brain that remaining quiet earns you mom's love and you get less scolded?
Each of a parent's doing to regulate child behavior should in itself be regulated too as you do not exactly know where and how will it hit a child's brain.