How this Rakhi will be different for kids?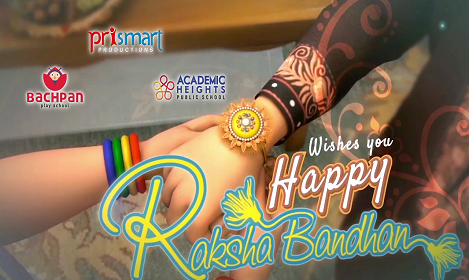 How this Rakhi will be different for kids?
Rakshabandhan is an Indian Festival to celebrate the innate bond between brothers and sisters. This time, Rakshabandhan will redefine itself. At one hand where brothers and sisters had been together in the COVID-19 lockdown, each one will have a special Rakhi celebration. On the other hand, there might be some who will be a part of essential service providers or have work that shall not allow them to be at home or with their sisters this Rakshabandhan. Still, this Rakhi is going to be special. Special in the way how brothers shall create Rakhi gifts in a time where they have to avoid stepping out to purchase gifts. It will be special for sisters in the way of how they replace chocolates and sweets bought from the market with the home maderelishingkheer, laddoos, burfi or 'chashni' dipped jalebis. Here are a few ways in which Rakhi can be made unforgettable with numerous ways of bonding. Here are a few things brothers and sisters individually can do to make each other feel special:
Make handmade cards
Both brothers and sisters can make handmade cards with all the material that they have at home. Try expressing your feeling for your brother/sister in every space of that Rakhi greeting. This shall touch their hearts deeper than what a bought from market card will ever do.
Make or bake delicacies
This Rakshabandhan, sisters may cook. Kids can cook recipes with the help of their mothers. Make your sibling's favorite sweets this festive season and see them enjoy every bite of it. Bake cakes, make burfis or coconut laddoos. Pick tasty yet easy to make recipes.
Make handmade gifts
Handmade gifts always remain close to the heart. What if you couldn't but a dress for your brother/ sister? Alongwith the card, show some creativity and prepare a handmade gift like a wind chime, CD art, painting or simply design a photo frame and put your sibling's picture inside that.
Arrange home dine-in
This time, although restaurants in many regions are opening, we still should keep safe and try staying at home as far as possible. But, you might also be missing out on dining in with your siblings, especially on the Rakhi eve. You may have some fun here by making any favorite dish you both enjoy. Sit on a dining table and chit chat while you grab your fav meals.
What to do if you are posting a Rakhi?
Sisters who might not be able to meet their brothers this Rakshabandhan can write a letter to their brothers. Although, in this era of mails and messages, we have been more connected on the social networking apps. But, a handwritten letter does the actual talking and is always more expressive.
Be keen and find ways to make this Rakhi all the more special despite restrictions arising out of COVID-19 outbreak. Bachpan Play School always teaches kids to stick to their roots while balancing with the immediate environment. We are also in touch with our kids and teachers for maintaining continuity in learning processes so, we know how kids are celebrating festivals differently at home this time. Bachpan also encourages kids to do craft and participate in activities which are taught to them in virtual classrooms.
Participate in our Rakshabandhan Contest starting soon on all our Social Media handles (Facebook, Instagram, Twitter &PriPrefect App) and win exciting gifts for your little one.
Again, Happy Rakshabandhan folks!