The Essence of How to Choose a Preschool for Your Child

Children learn what they see and a huge chunk of their learning comes from the environment they are surrounded by. That is why choosing the best play school is of utmost importance for your child's holistic development. You as parents need to know how to choose a preschool for your child in order to make a well-thought-out and informed decision. 
But what are the qualities of a good preschool? Let's find out.
School Infrastructure

The importance of having a good school infrastructure cannot be underestimated. Know that every best play school in India provides a technically-advanced and fully-facilitated environment, and if your child's preschool does not provide that, it is probably not the best.  
How to choose a preschool for your child depends on factors such as whether the school provides a safe, child-centric environment with anti-slip mats, round-cornered furniture, and well-lit and colorful corridors. 
Every educationist understands the importance of having a good school infrastructure that meets the basic needs of students and creates a safe and sound environment for them.
Teaching Methodology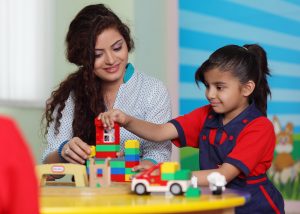 Early childhood development depends on the right teaching methodologies for the best outcomes. In your journey of learning how to choose a preschool for your child, this is a factor you cannot miss. 
Institutions that constantly work on introducing new and reformed methods of conceptual learning, bringing advanced curriculum, and encouraging friendly and interactive teaching processes play a major role in the overall development and brighter future of the child.
Play-way method of teaching is one of the best qualities of a good preschool. 
Age-Appropriate Learning Materials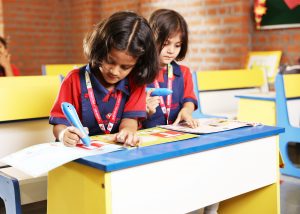 While it's crucial to introduce new methodologies, it is also important to realize that all the concepts and techniques should be age-appropriate and safe for the best kind of early childhood development. 
Certain concepts should be taught to children at an early age in accordance with the requirements of today's day and age. 
Familiarizing them with concepts like Virtual Reality, technologically advanced curricula, and learning tools is necessary for the development of 21st-century skills for kids.
School Facilities and Resources

Children often try to make excuses to skip school. They totally frown upon it. That's why schools need to smartly install fun concepts that would attract the kids to come and learn, and that's how to choose a preschool for your child. 
Schools that are equipped with innovative resources with a focus on 21st-century skills for kids can change their attitudes and perceptions of learning.
Children learn more when they feel calm and comfortable in an environment, so providing facilities like art and craft supplies, music rooms, entertainment, and VR rooms really pushes them to enjoy learning.
Safe and Hygienic Environment
The world has witnessed some pretty hard times in the Covid era and it has taught us the importance of a safe and hygienic environment.
You can ensure that your child understands these concepts by knowing how to choose a preschool for your child that gives them the best kind of preschool experience. The right school provides facilities like clean washrooms and sanitized rooms and teaches your child the importance of the same. 
Final Thoughts 
One school that is best for one child might not be the best for another child. When you choose a preschool for your child, make sure that it addresses your child's specific needs in addition to providing the above-discussed facilities.