Different Preschool Teaching Methods & Techniques Used Worldwide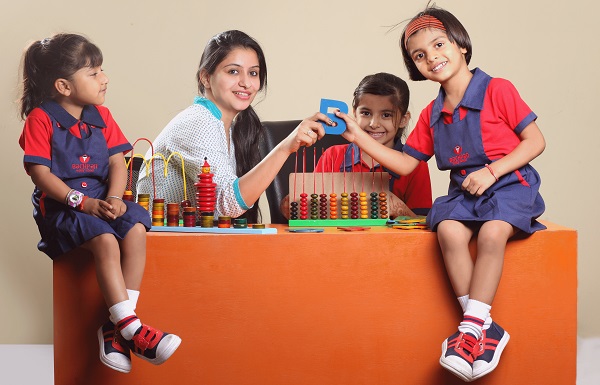 Poetically speaking, Preschool teaching is no less than an art form. Imagine yourself guiding a bunch of young children who are venturing out of their comfort zone for the first time, and teaching them the basic skills of life. Not every child is similar, and not every child requires the same amount of care; to be able to fulfill the needs of a child, and to enable them to start becoming independent in their actions is what preschool teaching is all about. It is not just a learning experience for children, but also for parents who begin to grow with their children. Thus, a preschool teacher is no less than an artist commanding a bunch of young ones.
But why are we talking about this? A very simple answer for this is our ignorance of the importance of preschool education. In a country where pre-schooling has only recently become popular & termed important for many obvious reasons, there still exists uncertainty & lack of surety as to how a preschool functions & what it aims to achieve. This article, therefore, aims to remove that uncertainty by explaining in simple terms how preschool functions, and the methods it adopts to teach children.
Like any other educational institute, teachers are the backbone of the entire preschool system. These teachers, young and experienced, are entitled to the task of educating children on their eating habits, reading skills, toilet habits, and developing their cognitive skills. While this aspect of preschool teaching is clear to the parents at large, what is less understood on their part is how all this is sought to be done.
Different Schools of Thoughts:
Contrary to the popular imagination, preschool teaching is not just about performing the objective tasks in a routine manner. It involves a lot of subjectivity on part of teachers, and a lot of thought goes into dealing with every child and knowing how a child can evolve. As a result of this subjectivity, preschool learning/teaching throughout the world have come up with different methods of teaching or different school of thought. These various methods provide us with an understanding of different styles of teaching and fill up the gaps in our understanding of preschool education.
Playway Method:
A very widely accepted and popular method of Play school teaching has been the playway method. Essentially, this school of thought believes that the best way of teaching a child is through taking up activities. The institutions rely on the heaving of activities such as role-plays, virtual games, singing, free play, and a lot more, to teach children. It is believed that such a method of learning brings exposure to the child in a friendly environment with no pressure at all. The focus is entirely on the needs of the child and the activities revolve around fulfilling such needs.
Playway method has been widely accepted by educational institutions dealing with young kids in the age group of 3-5. It fits well with the commitment and aim of not burdening the kids with tasks they are not yet capable of performing.
Reggio Emilia Method:
Another school of thought or method of teaching adopted is the Reggio Emilia Method. Evolved in Italy, inherently, this approach also believes in teaching through activities. How the approach differs in the type of activities and the core values it promotes. The approach believes in & is aimed at enabling the child to make their own place in society. It encourages communication with others, forms relationships, and promotes the child to wonder. The classroom acts merely as a catalyst that consists of material facilitating learning. The children are encouraged to communicate through music, art, dance, writing, and more. The parents are also involved in designing the curriculum and the entire progress of the child is recorded.
Waldorf Method:
The Waldorf method is also another popular method of teaching that evolved in Germany. The method focuses on enabling the child to grow through imagination. This school of thought believes in developing the ability of thinking and imagine among children. A child must be able to use their imagination and create through it. Thus, children are told stories, taken for walks, made to play games, and create toys out of available material.
The method of teaching kids grounds itself on the fact that reading and writing are not be introduced to children at such a small age and their education must be entirely oral and replete with creative imagination. There are also different age groups for which separate curriculum is subscribed. These age groups are 0-7yrs, 7-14yrs, and 14-18yrs.
Montessori Method:
Named after Maria Montessori, the first woman physician, this method, in its essence, deals with developing the personality of a child through sensory learning which includes touching, smelling, seeing, and tasting, rather than learning and reading. The classroom includes such self-correcting material, the use of which is demonstrated by teachers and reenacted by children. The activities are more work-based rather than play-based in the sense that the focus is more on reducing errors and promoting concentration abilities among children. Also, since it aims to improve the concentration abilities of children, the classrooms and materials are aesthetically designed and give a home-like feeling to children.
Bank Street Method:
The Bank street method is also among various methods adopted by teachers to enable children to learn. The method aims at the overall development of the child through first-hand experiences. The primary difference between the bank street method and playway method is the nature of the activities involved. The former contains activities like puzzles, building blocks, clay, etc which enable a child to experience a given problem.
Thus, to conclude, there are various other methods of teaching too that have been adopted by different institutions around the world. Although different in approach, it is not always the case that these methods can be compartmentalized into clearly distinct ways of teaching. A lot of times different approaches can correspond at a certain level, also depending on the need of various children.  However, what these different methods reflect is the effort on part of the institution to deal with the needs of a child. These methods also reflect the need of engaging actively with a preschool for the sake of the child.