BENEFITS OF ACTION SONGS FOR PRESCHOOLERS
Actions always say louder than words. A very common saying we hear across. How does it then fit to child's learning at school? What is the importance of a teacher narrating a story with the help of actions? Why do we see kids enjoying the learning sessions when a teacher claps, sings and expresses the text in the form of crude expressions. If a teacher says a word 'surprise' in a blank manner, the child shall never understand the true meaning of being surprised. They would also not know how to react when they are surprised. On the other hand, if a teacher says 'OHH…..' with a rounded mouth and big fat eyes, the child would better understand that she expresses surprise or a shock. Such an action based learning is fun and helps a child grasp quicker and retain longer the concepts taught. Similarly is the case for action songs for preschoolers. Do we ever forget 'One two buckle my shoe…..three four knock at the door….'? What is the reason for remembering association with this Ohh so long Rhyme we learnt far before times? It is nothing more than the round and round we moved, bending action to buckle the shoe which our teachers did the same way along.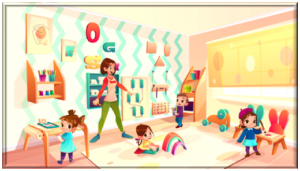 There are several benefits of action rhymes, more than we think. Benefits of action songs can be enumerated as follows:
Kids relate to the words and phrases used while action rhyme is on.
They observe the teacher singing the rhyme and improve their phonetics and pronunciation of words.
They get to relate the movement of the body and the words sung while the action songs are on.
They get improved motor skills and remain active throughout the day.
Action rhymes make the child confident and reduce fear of speaking in front of people.
It also leads to quicker grasping of concepts taught in the class.
It also helps in better retention of such concepts for a long period of time.
Action Rhymes lifts up a child's motivation and relaxes his/her senses.
It is a fun-way of learning and does not seem to be a burden.
Importance of learning through action rhymes or action songs are very important if you are dealing with kids who are too small to handle and understand the connotation of the words you are speaking. While action rhymes are a part of the syllabi but the procedure of teaching that syllabi doesn't involve making a note or rote-learning or practicing again and again.
Action Rhymes are all the more effective if done using props. If there is a nursery rhyme on a yellow ball, it's always better that the one singing the action rhyme holds the yellow ball an keep flipping it while the rhyme is on. This is indeed a childlike thing which we all enjoy.
More than listening to the rhymes as audio or as audio-visual, it's always better to sing it in chorus. Voice modulations and frequency are also very important while singing an action rhyme in the class. Say, there is a rhyme on a one big monster and a sweet little girl. The singer of the rhyme shall say 'One Big Monster' loudly in a harsh tone and 'Sweet Little Girl' in a soft tone of voice. This is balance which is a part of narration and has to be maintained, as much as possible.
SO,
SING… SING… SING US A SONG
RAISE YOUR HANDS AND DANCE ALONG!