5 Superfoods to boost child's brain capacity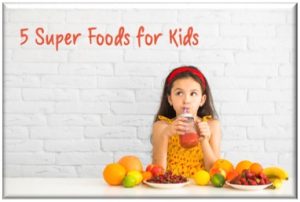 WHAT ARE SUPERFOODS?
According to the Merriam-Webster Dictionary, a superfood is one that is rich in compounds (such as antioxidants, fibre, or fatty acids) considered beneficial to a person's health.
Today we know of many superfood
s that have a wide range of health benefits. In this post, we will look at a few that are best suited for kids.
It's a real big task to get your child eat healthy!
Parents struggle with drifting the child from all the junks they love to the super foods that they should have. There are a numerous books and guides to suggest the healthy eating habits amongst children. The question is do we really know what tops the list in the healthy food basket that a kid should have? The first light I wish to throw in here is on the approach with which we reach a child in order to make them eat wise. We talk about their eating etiquettes too.
We are more concerned about how does a child eat a banana or a burger without getting messy with their hands and clothes. But, we generally tend to forget the importance of checking the right diet for the kid. How a child eats a banana or a burger is not important. I would suggest, let them be messy and just check the food consumed in the first place (Table habits are to be watched later or maybe the school will take care of that). Secondly, I would not talk of lettuces and berries which are rarely available in the local market. I would not suggest you to give your child a nutritional food for a day or two. Include in the diet the foods and supplements that are readily available in the market round the year. Too much dependency on seasonal fruits like strawberries and cherries is also not good as your child might develop a genuine taste for it and might be reluctant to switch to other available fruits. Thus, following paragraphs enumerates 5 easily available super foods that should form a part of child's regular dietary regime.
Cornflakes and Oatmeal (Oats)
Corn flakes and oats are a rich source of energy and fibre. A good fibre diet intake keeps the digestive system of a child in place and regulates bowel movement. Fibre is the best if taken for breakfast before going to school.
Green Vegetables
Green leafy vegetables are a rich source of vitamin and fibre. Such food includes spinach and cabbage that can be added to kids' food to make it healthier. The best part is they are available round the year and do not change the food taste majorly when added to something.
Beetroot and Mushroom
Beetroot and mushroom are rich in vitamins, minerals, iron and calcium. They are available round the year. Mushroom can be the most loved food to kids if cooked in a proper manner. Beetroot gives a sweet pinkish shade to the food it is added to.
Citrus fruits
Citrus fruits are rich source of vitamin C and energy. Appropriate amount of oranges and lime fruit enhances immunity. In case a citrus fruit is not at home, do not forget to give the child a big glass of fresh lime water with a pinch of black salt added to it.
Healthy nuts
Walnuts and almonds are a source of energy and are available round the year. To add taste, it can be roasted with black pepper and salt added to it. Nuts are the best when taken with breakfast. Always avoid having salted nuts with milk.
'Superfood' is just a name. It is just the right food and making it palatable and tasty for the kids that makes it so 'super'. Cabbage in its raw form is non-palatable nor it looks good. But having it cooked with kid's favorite vegetables and putting it up in a chapatti roll can just do the trick.
Keep reminding your child…….. EAT HEALTHY! THINK WISE!