Celebrating International Women's Day: Being A Mompreneur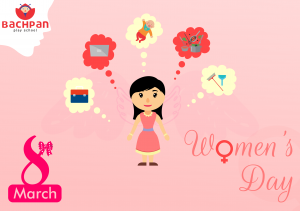 When we talk about women power, we generally tend to make a mistake of empowering women for a single day. May be, flooding them with quotes, wishes and at times gifts are on the roll. What happens the very next day disheartening yet, true. She sometimes has to or made to cripple her dreams, sit in the corner and wait for the right time which apparently never comes. Little do we know that a woman is in any case going to fulfill her duty but if she correspondingly takes steps towards her own dreams and aspirations, she shall do it in a more efficient manner. Have you ever heard "A happy man is his own Santa!" So is true with a woman. She has that inbuilt power to maintain a balance which keeps her fit to be called as the family observer. A woman does everything in a manner which is and in cases has already been an unparalleled sight for the world to see.
DEFINITION of Mompreneur
Mompreneur, or "momtrepreneurs", is a term describing women who start or run their own businesses while also acting as a full time parent, where Mompreneur is a combination of the words "mom" and "entrepreneur"
(Source: https://www.investopedia.com/terms/m/mompreneur.asp)
This piece of my writing thus aims at, not the chores a mother's list of doing contains, but to the avenues that are open to her. Let us together look into the ideas wherein a mother can realize her potential of a mompreneur and consequently create her 'happy within'!
Read On…… A mom can give her desires wings with these interesting take-ups:
• Teach!
There is nothing greater than this. Moms, who oversee her child's subjects of study, can anytime become a language trainer or a subject tutor which she specializes in. Start batches according to your free time. Create your teaching room a box of learning with bright painted walls and you are good to go.
• Online Dealership
Mommies! In the era of technology, you have the entire world at the keyboard and under your fingertips. You are a click away from connecting to factory outlets and shops and confirm that you will circulate their products in the market. This shall require only a day or two hours work on your mobile phone.
• Online Selling
You can directly sell your produce online. If you are good at making greeting cards, design a website of your own, publicize it on the social network and start selling. Trust your abilities and show the world your piece of art.
• Online Tutoring
There are several teaching portals which get your details filled, conduct an online interview and connect you with the students' tutoring needs all over the globe. So, just flair it out and tutor children on the subject you specialize in. You can even start your own tutoring websites.
• Consultancy and Counseling
You do not necessarily need a professional degree on counseling. You are already a counselor clearly telling your child each day about his/her wrong doing and right doing. Start and render your own professionalized counseling service over the telephone or as e – counseling.
• Family business
In case there is a family business of which you can be a part, plunge in the project and sail through. If you are good with numbers, take up accounting. If you love to converse, head marketing and there is a whole lot of possibilities heading towards you.
• Work of Accounts
You can start a business related to accounting procedures which are very transparent now. Fill returns, Prepare balance sheet, reconcile statements. This way you will have diverse contacts and accounts shall never let you short of work at any point of time.
• Writing/Proofreading/Editing
If you can write or have a strong hold over a language, enrich it further and there is no stopping. Write books; take up freelancing for work of editing and proof-reading. Write blogs and get them published at a platform of your choice.
• Hobby Classes
If you can paint well, dance to the tunes, sing melodiously or do anything that you feel can be bestowed and taught to the children, call them home. Start summer camps or evening classes. Decide upon a good and catchy name for your classes and get ready to spend some 4-5 hours of the day with the children.
• Hold Exhibitions
Preach your art or something you excel in. You need to show it to the world. The best way for doing this holding an exhibition. Get attractive pamphlets and flyers printed for informing about the same and inviting the public at the venue.
• Décor Consultant
Every woman decorates her own home. If you at all have interest in the home décor and interiors, you can work as a décor consultant. Visit the client site and work over the phone or E- mail for rest of the days. Tell them what would look good and what would not.
• Designer Boutique
Moms who keep in mind the latest trend can start their own boutique. Child boutiques are also in a great run today. They specialize in child dress material, designing and tailoring. You can sell the produce online or exclusively at your boutique.
Do remember to celebrate your success on March 8 every year.
Maybe, throw a party for people whom you work every day with!